現在の業績
少なくて恥ずかしいですがいまのところ業績はこれくらいです。
---
論文(英文)
Nakata, K. (1995) Age polyethism, idiosyncrasy and behavioural flexibility in the queenless ponerine ant, Diacamma sp. J. Ethol., 13, 117-127
Nakata, K. (1996) Does behavioural flexibility compensate or constrain colony productivity?- relationship between age structure, labour allocation and production of workers in ant colony - J. Ins. Behav., 9, 557-569
Nakata, K and Tsuji, K. (1996) The effect of colony size on the conflict over male-production between gamergate and dominant workers in the ponerine ant Diacamma sp.- Ethol., Ecol. & Evol., 8, 147-156
Tsuji, K, Nakata, K. and Heinze, J. (1996) Lifespan and reproduction in a queenless ant. Naturwissenshaften, 83, 577-578
Nakata, K. (1996) The difference in behavioural flexibility among task behaviours in a ponerine ant, Diacamma sp. Sociobiology, 27, 119-128
Nakata, K. (1998) Absence of sex differential brood raising by workers in Diacamma sp. from Japan Behav. Ecol. Sociobiol., 43, 223-227
Wakano, J., Nakata, K. & Yamamura, N. (1998) Dynamic model of optimal age polyethism in social insects under stable and fluctuating environments J. Theor. Biol., 193, 153-166
Nakata, K., Tsuji, K., H嗟ldobler, B. & Taki, A. (1998) Sexual calling by workers using the metatibial glands in the ant, Diacamma sp. from Japan J. Ins. Behav., 11, 869-877
Nakata, K. & Ushimaru, A. (1999) Feeding experience affects web relocation and investment in web threads in an orb-web spider, Cyclosa argenteoalba Anim. Behav., 57, 1251-1255
Nakata, K. (2000) Stability in worker production and colony size in ant coloniesSociobiology, 35, 441-446
Ushimaru, A. & Nakata, K. (2001) Evolution of flower allometry and its significance for pollination success in the deceptive orchid Pogonia japonica. Int. J. Plant Sci., 162,1307-1311
Ushimaru, A. & Nakata, K. (2002) The evolution of flower allometry in selfing species. Evol. Ecol. Res., 4, 1217-1227
Nakata, K. Ushimaru, A. & Watanabe, T. (2003) Using past experience in web relocation decisions enhances the foraging efficiency of the spider Cyclosa argenteoalba J. Ins. Behav., 16, 371-380.
Nakata, K. & Ushimaru, A. (2004) Difference in web construction behavior at newly occupied web sites between two Cyclosa species Ethology, 110, 397-411
Ushimaru, A., Kikuchi, S., Yonekura, R., Maruyama, A,. Yanagisawa, N., Kagami, M., Nakagawa, M., Kohmatsu, Y., Hatada, A., Kitamura, S., and Nakata, K. (2007) The influence of floral symmetry and pollination systems on flower size variation. Nordic Journal of Botany, 24:593-598
Ushimaru, A., Watanabe, T., & Nakata, K. (2007) Colored floral organs influence pollinator behavior and pollen transfer in Commelina communis . Amer. J. Bot., 94, 249-258
Nakata, K. (2007) Prey detection without successful capture affects spider's orb-web construction behaviour. Naturwissenshaften 94:853-857
Nakata, K. (2008) Spiders use airborne cues to respond to flying insect predators by building orb-web with fewer silk thread and larger silk decorations. Ethology, 114:677-685
Mori, Y. & Nakata, K. (2008) Optimal foraging and information gathering: how should animals invest in repeated foraging bouts within the same patch? Evol. Ecol. Res.. 10:823-834
Nakata, K. (2009) To be or not to be conspicuous: the effects of prey availability and predator risk on spider's web decoration building. Anim. Behav. 78:1255-1260
Zschokke, S. & Nakata, K. (2010) Spider orientation and hub position in orb-webs. Naturwissenshaften 97:43-52
Nakata, K. (2010) Attention focusing in a sit-and-wait forager: A spider controls its prey-detection ability in different web sectors by adjusting thread tension. Proc. R. Soc. B 277:29-33
Nakata, K. & Zschokke, S. (2010) Upside-down spiders build upside-down orb webs - web asymmetry, spider orientation and running speed in Cyclosa. Proc. R. Soc. B 277:3019-3025
Nakata, K. (2010) Does ontogenetic change in orb-web asymmetry reflect biogenetic law? Naturwissenshaften97:1029-1032
Nakata, K. (2012) Plasticity in an extended phenotype and reversed up-down asymmetry of spider orb webs Anim. Behav. 83:821-826
Nakata, K. & Ushimaru, A. (2013) The effect of predation risk on spider's decisions on web-site relocation Behaviour 150:103-114
Zschokke, S. & Nakata, K. (2015) Vertical asymmetries in orb webs. Biol. J. Linn. Soc. 116: 659-672
Kondoh, M., Mougi, A., Ushimaru, A. & Nakata, K. (2015) Adaptive movement and food-chain dynamics: towards food-web theory without birth-death processes. Theor. Ecol.
Takasuka K., Yasui T., Ishigami T., Nakata K., Matsumoto R., Ikeda K. & Maeto K. (2015) Host manipulation by an ichneumonid spider-ectoparasitoid that takes advantage of preprogrammed web-building behaviours for its cocoon protection. J. Exp. Biol. 218:2326-2332
Nakata, K. & Shigemiya Y. (2015) Body-colour variation in an orb-web spider and its effect on predation success. Biol. J. Linn. Soc. 116:954-963
Shigemiya Y. & Nakata, K. (2015) Method for rearing the orb-web spider Cyclosa argenteoalba. Acta Arachnol. 64:75-81
論文・総説等(和文)
中田兼介(1992)"女王のいない"トゲオオハリアリ. 昆虫と自然 27:15-20
中島みどり、中田兼介、村上興正(2000)京都府京田辺市周辺の里山に生息するイシガメとクサガメの分布と齢構造について. 関西自然保護機構会誌 22:91-103
石田 惣, 薮田慎司, 中田兼介, 広瀬祐司(2004)動物行動の映像データベース—自然史系博物館の普及教育で活用する事例とアイデア. 第11回全国科学博物館協議会研究発表大会資料 37-42.
中田兼介・藪田慎司(2006)動画資料を使ったフィールド生物学者の自然教育への貢献. 日本生態学会誌 56:166-173
小林由美、千嶋淳、藤井啓、刈屋達也、川島美生、石川慎也、中田兼介、藪田慎司 (2008) 個体識別データベースを活用したゼニガタアザラシの生活史に関する研究. プロ・ナトゥーラ・ファンド第17期助成成果報告書 77-85
中田兼介(2010)クモの網 -糸と形が織りなす機能- 生物科学 61:147-155
中田兼介(2010)「視覚化」と「わかりやすさ」の裏表(<連載2>博物館と生態学(13))日本生態学会誌 60:283-286
藪田慎司、中田兼介、千嶋淳、藤井啓、石川慎也、刈屋達也、川島美生、小林万里、小林由美(2010)ゼニガタアザラシの写真及び個体情報デジタルデータベース:野生哺乳類の長期野外研究を支援する試み. 哺乳類科学 50:195-208
中田兼介(2010)垂直円網と非対称性. Acta Arachnologica 59:93-102
中田兼介(2012)「アウェイ」の生態学:趣旨説明. 日本生態学会誌 62:49-50
中田兼介(2015)食う食われる中でのクモの「見た目」 ([特集]クモ研究の現在-新たな技術と視点から- ). 生物科学 66:79-88
中田兼介(2015)薪ストーブ利用のコストベネフィット (特集 2010年代の里山管理シンポジウムII/里山資源の循環的利用 ). 地域自然史と保全 37:15-20
著書
中田兼介(2000)クモの生物学(分担執筆, 第8章 採餌場所選択, pp.159-180), 宮下直編, 東京大学出版会
中田兼介(2002)人間環境学への招待(分担執筆, pp.64-69,182-187), 長崎総合科学大学人間環境学部編, 丸善
中田兼介(2008)昆虫ミメティックスハンドブック(分担執筆、 第一章第五節 クモの網:構造の多様性と進化, pp.119-125を担当), 下澤楯夫・針山孝彦監修, エヌ・ティー・エス
中田兼介(2009)シリーズ「動物の多様な生き方」第2巻「動物の生き残り術:行動とそのしくみ」(分担執筆, 第9章 建築, pp.149-166を担当), 日本比較生理生化学会編, 共立出版
中田兼介(2015)環境Eco選書11 クモの科学最前線-進化から環境まで- (分担執筆, 第二章, クモの網の特徴とその機能, pp.30-43を担当), 宮下直編, 北隆館
中田兼介(2015)昆虫科学読本-虫の目で見た驚きの世界(分担執筆, 第5章, クモの網が円くないわけ, pp63-77を担当)、日本昆虫科学連合編, 東海大学出版部
---
訳書
野外実験生態学入門(1996、蒼樹書房)ハーストン, N.G.著、堀道雄、立澤史郎、足羽寛との共訳
---

履歴書もあります。




ホームページに戻る
---
中にはアブストラクトのある物もあります。
Age-related behavioural change of individually marked and known-age workers of a colony of Diacamma sp. was observed through entire ant lives in the laboratory for more than a year. Although typical age polyethism was observed, activity of inside and outside tasks, life span, or time schedule of behavioural change varied considerably among workers. Idiosyncrasies in age-related behavioural change was detected among workers that eclosed on the same day. Cluster analyses revealed that individual patterns of behavioural change tended to be different when eclosion dates were far apart. This suggests that most workers change their behaviour flexibly. Thus, there is little effect of idiosyncrasy on colony response to changes in colony condition.

---

Temporal change in colonial labour allocation, age structure, eclosion of workers and number of brood of colonies of the ponerine ant, Diacamma sp. from Japan were surveyed more than a year. Batch eclosion occurred in all colonies. Temporal fluctuation of broods indicated that the reason for batch eclosion lay in brood raising, not in cessation of egg supply. Labour allocation pattern at a given moment was connected to the subsequent productivity by multiple linear regression in a colony. Fluctuating eclosion patterns of other colonies were predicted from labour allocation patterns extrapolated from their age structure without considering behavioural flexibility. They fitted with observed patterns considerably. This suggests that behavioural flexibility does not fully compensate the deterioration in productivity caused by the fluctuation in age structure.

---

Colonies of the queenless ponerine Diacamma sp. have females with three types of functions with respect to reproductive status: a mated worker (gamergate), egg-laying unmated dominant workers, and non-reproductive unmated subordinate workers. In the laboratory, several dominant workers oviposited but most eggs were eaten by the gamergate. However, some eggs, which may have resulted in the production of males, were overlooked and escaped from oophagy by the gamergate.
The colony size of male-producing colonies was larger than that of non-male producing colonies. An increasing difficulty for the gamergate to find worker-laid eggs caused by large colony size appears to be responsible for this phenomenon.

---

The temporal change in age structure among workers, the task demand, and the amounts of 6 task behaviors in a colony of the ponerine ant, Diacamma sp. were observed for a year. There are correlations between the number of larvae or cocoons and the amounts of larva caring or cocoon caring, respectively. This seemed to imply that the effect of age structure on the amounts of two behaviors were small because of behavioral flexibility. On the other hand, there are correlations between age structure and the amounts of foraging, social behaviour and egg caring. Among these behaviors, behavioral flexibility seemed to stabilize the temporal variation only in egg caring. It is considered that productivity of the colony is mostly influenced by the behaviour which is affected by age structure, because discrepancy between task demand and the number of workers to do the task will occur.

---

To optimally allocate resources between workers, reproductive females and males, ant workers have to be able to identify the sex of larvae and raise them differently. The ability of workers to discriminate between the sexes in the brood was tested in colonies of queenless ponerine ants, Diacamma sp., from Japan. The ratio of male eggs in the egg pile was increased experimentally. This manipulation resulted in a corresponding increase in the ratio of adult males, suggesting that Diacamma workers do not raise the sexes differently.

---
Orb-web spiders are an important group of trap-building animals that feed upon an array of insect prey, and are themselves the prey of wasps and parasitoid flies. The purpose of this study was to examine whether spiders use airborne vibration cues to respond to these flying insect predators by changing their web-building behavior. While on its web waiting for prey, the orb-web spider Eriophora sagana was exposed to a vibrating tuning fork that emitted an airborne vibration signal when it was on its web waiting for prey. The signal mimicked the approach of flying insect predators, and its effect on the subsequent web-building was examined. No stimulus was provided during web-building. A significant treatment effect was observed with respect to the total thread length and area of the silk decoration (conspicuous white structure attached to the orb-webs of diurnal spiders) of their webs. While control spiders increased the total thread length in their second web, the stimulus group spiders did not, providing the first evidence that orb-web spiders use airborne vibration cues to assess the predation risk and change their foraging activity. It also indicates that spiders remember an encounter with a predator on their webs and use this information later to adjust their web building. My findings imply that spiders devote less effort to foraging (i.e., web building) in response to the presence of their predators, which is considered to reduce their foraging efficiency. In contrast, the stimulus group spiders increased the area of their silk decoration significantly more in their second webs than did the control spiders. This is considered an experimental support for the hypothesis that silk decorations have an anti-predator function.
---
Some spiders build conspicuous silk decorations, or stabilimenta, on their orb webs. The decorations are thought to function as visual signals, and there is evidence to support both prey attraction and predator defence hypotheses. This study was designed to test both hypotheses simultaneously in Cyclosa argenteoalba by examining whether spiders change web decorations according to perceived levels of prey availability and predation risk. Spiders built their webs with more thread when prey was experimentally supplied, but with less thread when exposed to the vibrating tuning fork that mimicked the wing beat of flying insect predators. The results indicate that spiders invest more in foraging activity in the presence of available prey, but invest less in response to perceived high levels of predation risk. Web decoration, on the other hand, was only affected by the perceived level of predation risk and not prey availability. Spiders built longer decorations when exposed to the tuning fork vibrations. The results indicate that silk decoration has a predator defence function, but not a prey attraction function in C. argenteoalba. They also suggest that orb web decoration by C. argenteoalba does not involve a trade-off between deterring predators and being avoided by prey.
---
Focusing attention is a way for animals to search for and to obtain food efficiently. This study examines whether a sit-and-wait forager, the orb-web spider Cyclosa octotuberculata, focuses its attention on limited foraging areas. Video records of foraging activity revealed that the spiders detected prey trapped in the west and east sectors of their web less frequently than prey trapped in the north and south sectors. Comparison of photos of the web hub area with and without spiders present revealed that the spiders pulled radii towards the centre when waiting for prey. Radius pulling is stronger in the north and south web sectors than in the west and east sectors, possibly causing more tension in radii running vertically. Experimental manipulation indicated that the spiders responded to prey quicker when thread tension was increased. The results suggest that C. octotuberculata focus their attention on the web areas above and below the spider by adjusting the tension in web threads; and this causes higher prey detection rates in these areas.
---
Almost all spiders building vertical orb webs face downwards when sitting on the hubs of their webs, and their webs exhibit an up-down size asymmetry, with the lower part of the capture area being larger than the upper. However, spiders of the genus Cyclosa, which all build vertical orb webs, exhibit inter- and intraspecific variation in orientation. In particular, Cyclosa ginnaga and C. argenteoalba always face upwards, and C. octotuberculata always face downwards, whereas some C. confusa face upwards and others face downwards or even sideways. These spiders provide a unique opportunity to examine why most spiders face downwards and have asymmetrical webs. We found that upward-facing spiders had upside-down webs with larger upper parts, downward-facing spiders had normal webs with larger lower parts and sideways-facing spiders had more symmetrical webs. Downward-facing C. confusa spiders were larger than upward- and sideways-facing individuals. We also found that during prey attacks, down- ward-facing spiders ran significantly faster downwards than upwards, which was not the case in upward- facing spiders. These results suggest that the spider's orientation at the hub and web asymmetry enhance its foraging efficiency by minimizing the time to reach prey trapped in the web.
---
Most orb web spiders face downward on the web hub, and their webs are vertically asymmetrical, that is, the lower part of the web is larger than the upper part and the ratio of the lower part to the whole web area increases as the spider grows. This phenomenon may reflect biogenetic law such that young animals exhibit a general ancestral trait whereas adults exhibit specific and derived traits. An alternative explanation is that vertical asymmetry may arise from the difference in time required by spiders to move up or down the web to capture prey. The present study tested these two hypotheses for Eriophora sagana. Subadults of this species build their webs with reverse asymmetry in that the upper part of the web area is larger than the lower part. In both subadults and adults, the upper proportion decreased with spider weight, and adult spiders built more symmetric webs. These results support the capture time difference hypothesis.
---
Orb webs built by spiders are an extended phenotype, and spiders can modify their morphology when rebuilding them. Internal and external environmental conditions can affect how spiders rebuild. Most spiders that build vertical orb webs wait for prey at the web hub and orient downwards. Moreover, their webs exhibit up-down size asymmetry; specifically, the area below the hub is larger than the area above it. However, some spiders reverse this asymmetry in their webs. To examine the relationship between phenotypic plasticity and web asymmetry reversal and whether spiders elongate their webs upwards in response to prey capture in the upper web, I manipulated prey capture location in two closely related spider species. Cyclosa octotuberculata build webs with typical asymmetry (larger area below the web hub). Cyclosa argenteoalba build webs with reversed asymmetry, a derived phenotype, and wait in a reversed orientation, facing upwards. I found that, when spiders fed in the lower part of the web, both species elongated their webs downwards and that C. argenteoalba webs lost their asymmetry and became symmetrical. In contrast, webs were not elongated in the upward direction when spiders of either species were fed in the upper part of the web. These results provided evidence that the up-down asymmetry of Cyclosa webs is a plastic trait regardless of whether spiders build webs with typical or reversed asymmetry. However, no significant upward elongation of webs indicates that there is no evidence of a relationship between plasticity in the extended phenotype and web asymmetry reversal.
---
Among the costs associated with animal-built structures, the cost of exposure to predators is important, because it affects the survival of builder animals. When predator risk increases, the builder may change the location of a structure or remain on the structure but modify its behaviour. The main purpose of this study was to examine whether builders leave their current structure locations and relocate to a new location upon predator attacks. To assess this, we used orb-web spiders that regularly renew their webs and occasionally relocates their web site upon web-rebuilding. Specifically, adult females of Cyclosa argenteoalba were exposed to the air-borne vibrations from a tuning fork. These vibrations simulate the vibrations from insect predators' wings and trigger immediate anti-predator responses (jumping off the web to avoid attacks from predators and shaking webs). Spiders that received these simulated predator stimuli relocated more often on the day after treatment than did spiders that were not exposed to predator stimuli. This indicated that spiders estimated future predation risk from their predator-encounter experience and responded to perceived increase in predation risk at current site by abandoning their web site upon web-rebuilding. In addition, we examined whether the frequency of jumping behaviour and web relocation were correlated, but no significant relationship was detected. This result suggests that immediate anti-predator behaviour at the current site and the decision to relocate were independent of each other.
---
Although it is well known that spatial learning can be important in the biology of predators that actively move around in search for food, comparatively little is known about ways in which spatial learning might function in the strategies of sit-and-wait predators. In this study, Cyclosa octotuberculata, an orb-web spider that uses its legs to contract radial threads of its web to increase thread tension, was trained to capture prey in limited web sectors. After training, spiders that had captured prey in horizontal web sectors applied more tension on radial threads connected to horizontal sectors than spiders that had captured prey in vertical sectors. This result suggests that the effect of experience on C. octotuberculata's behaviour is not expressed in the way the trained spider responds to prey-derived stimuli and is instead expressed in behaviour by which the spider anticipates the likely direction from which prey will arrive in the future. This illustrates that learning can be important even when the predator remains in one location during foraging bouts.
---
Animal body coloration serves several functions such as thermoregulation, camouflage, aposematism, and intraspecific communication. In some orb-web spiders, bright and conspicuous body colours are used to attract prey. On the other hand, there are other species whose body colour does not attract prey. Using a spider species showing individual body-colour variation, the present study aimed to determine whether or not the variation in body colour shows a correlation with predation rates. We studied the orb-web spider (Cyclosa argenteoalba) using both field observations and T-maze experiments, in which the prey were exposed to differently coloured spiders. Cyclosa argenteoalba has silver- and black-coloured areas on its dorsal abdomen, with the ratio of these two colours varying continuously among individuals. The bright and conspicuous silver area reflects ultraviolet light. Results of both field observations and colour choice experiments using Drosophila flies as prey showed that darker spiders have a greater chance of capturing prey than silver spiders. This indicates that body-colour variation affects predation success among individuals and that the bright silver colour does not function to attract prey in C. argenteoalba.
---
Monandry, in which a female has only one mating partner during the repro- ductive period, is established when a female spontaneously refrains from re-mating, or when a partner male interferes with the attempts of a female to mate again. In the latter case, however, females often have countermeasures against males, which may explain why polyandry is ubiquitous. Here, I demon- strate that the genital appendage, or scape, of the female orb-web spider (Cyclosa argenteoalba) is injured after her first mating, possibly by her first male partner. This female genital mutilation (FGM) permanently precludes copulation, and females appear to have no countermeasures. FGM is con- sidered to confer a strong advantage to males in sexual conflicts over the number of female matings, and it may widely occur in spiders.
---
Complex behaviour may incur a cost. We assumed here that web-building behaviour for two species of orb-web spider, Cyclosa argenteoalba and Eriophora sagana, was more complex when their webs were asymmetric from top to bottom than when their webs were symmetric. The rationale for this assumption was that, while spiders have to adjust their spiral building behaviour in different web sectors to build asymmetric webs, they do not have to make these adjustments for symmetric webs. To estimate the costs involved in building more asymmetric webs, we measured the time taken for spiders to build orb-webs with various up-down size asymmetries and used this as a measure of the complexity of web-building behaviour. The results showed that the spiders required more time to lay the spiral threads as their webs became more asymmetric even when the length of spiral threads was the same, suggesting a time cost of processing complex information. Furthermore, we found that spiders built more symmetric webs when they perceived a risk of predation, perhaps to reduce the web-building time during which they are more vulnerable. This suggests that the cost of behavioural complexity may mediate the outcome of interspecific interactions and thus may be ecologically important.
---
履歴書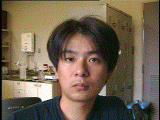 平成12年4月10日現在
氏名

中 田 兼 介

生年月日

昭和42年10月31日

年齢

32才

本籍地

大阪府

連絡先

〒851-0193、長崎総合科学大学人間環境学部

電話

095-838-4108
学歴及び職歴
平成2年3月

京都大学理学部卒業

平成2年4月

京都大学大学院理学研究科修士課程(動物学専攻) 入学

平成4年3月

同 修了

平成4年4月

京都大学大学院理学研究科博士後期課程(動物学専攻)進学

平成7年3月

京都大学理学博士の学位を取得、博士後期課程修了

平成7年4月より平成9年3月まで

京都大学理学研究科研修員

平成7年4月より平成10年3月まで

奈良佐保女子短期大学非常勤講師

平成9年4月より平成12年3月まで

日本学術振興会特別研究員および立命館大学非常勤講師

平成12年4月より

長崎総合科学大学講師
学位
平成7年3月 京都大学 理学博士
The relationship between individual behaviour, age-polyethism and productivity of the queenless ant, Diacamma sp.
主査 京都大学教授 川那部浩哉

所属学会
日本生態学会、日本動物行動学会、国際社会性昆虫学会
賞罰
---

ホームページに戻る